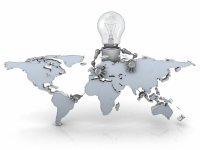 Think that having an eye-catching logo and distinctive online brand don't matter — or are unimportant if you have a distinctive product or service or low prices? Think again. Both elements play a crucial part of a successful small business marketing plan.
«I won't go so far to say that having a good or bad logo will make or break the success of your business,» said Candy Phelps, the owner of iCandy Graphics and Printing, «but it will definitely increase your success if you have a great logo and branding identity. If you have a cheap-looking, generic website and a cheap-looking logo, you're sending a message to your customers that you may be cheap about other areas of your business, like your products and services.»
Put another way, think of your website as your top salesperson or your first point of contact with prospective customers.
«You wouldn't hire, or keep, a salesperson that went out to meet customers in ripped jeans and a t-shirt, without showering, would you?» asked Brad Leszczynski, the chief creative officer at 8fold. «So why would you have an awful looking website and a badly designed logo? If a customer perceives your business — based on your logo and your website — to be sloppy, what are they going to think about the product or service you are offering?»
Think about the last time you went to buy a product or service and were faced with multiple online choices. Did you gravitate to the website that looks like it was designed at the dawn of the Internet age — crammed with text, with multiple colors, fonts and images and hard-to-use navigation?
Or did you shop at the well-designed, easy-to-navigate site with the memorable name and eye-catching logo and color/design scheme?
If you are like most people, nine out of 10 times, price being relatively equal (or even unequal), you chose the business with the attractively designed website with a clear branding message. And your customers are doing the same thing.
Small Business Marketing 101: How to Stand Out Online
«As a small business, you really want to try to stand out online — and not look small,» explained Renata Bodon, the founder of One Small Step reusable lunch products. «So many people are selling similar things on the Web, and you want people to shop at — and come back to — your site. You [need] to make yourself look bigger — and professional.»
For Bodon, looking like she meant business meant creating a unique online identity and logo that really captured the philosophy behind One Small Step.
«It started with the name,» she explained. She wanted something people would remember, that would set her online store apart from others that sold similar items — a good marketing strategy for any business. She ultimately chose «One Small Step» because she «wanted to get across that making the switch to reusables wasn't a huge effort but one small step,» harking back to astronaut Neil Armstrong's famous «one small step for man» quote.
Then Bodon worked closely with a designer to create a distinctive and memorable logo that embodied that message.
«A logo was very important for us,» she said. «We put it on our shopping bags, our shipping boxes and the thank-you notes that we place in every order.» Bodon wanted to remind people that they weren't just packing lunch; they were helping to save the planet. That's why the One Small Step logo features a small Earth with a small footstep on it, as a «subtle reminder... of each person's impact on the Earth.»
The One Small Step logo, which set the tone for the rest of the One Small Step website, has had a positive impact on sales. Bodon noted that people are often surprised to find out she has only been in business a short time, because her site looks so professional. «And that has really helped gain customers' trust,» she said.
Babak Zafarnia, the founder and president of Praecere Public Relations, also felt it was important, when establishing his business and website, to create a logo and corporate/online identity that would resonate with prospective customers.
«Praecere Public Relations has to compete with so many other [PR] firms,» Zafarnia explained. «What sets us apart and distinguishes our business... is our expertise, experience and creativity.» He felt it was essential to create a logo and website «that was consistent with those themes and amplified them.»
More often than not, your logo and your website are your customers' first encounter with your business, Zafarnia explained. And they «need to connect on an emotional level if you are going to get people to click through your site.»
As for Praecere Public Relations' logo and branding, they often serve as one of the first talking points when meeting with new clients. That gives Zafarnia and his partner a jumping off point to discuss the company's philosophy and services.
Tips for Finding, Choosing and Working with a Designer
Before you spend money on a designer, it pays to spend some time thinking about what it is you want your logo and website to convey — and do some research to figure out what you like and don't like.
«A lot of people have no idea what they want,» explained Phelps, and they don't spend any time really thinking about the face of their business. A good designer will ask the business owner what she likes and doesn't like.
«But if they don't give me much information, then it becomes me designing a logo and/or website that I think looks good, but that may not be representative of their business,» she said. «Being as articulate as you can be about the types of things you like and the types of things you don't like, either by giving examples or descriptions, is really helpful for a designer.»
Zafarnia agreed. «If you don't have a vision, if you haven't set up any guidelines, you're not going to get a result you are happy with. You really have to throw yourself into [the design process], make yourself a part of it, in order to get a successful result.»
Equally important, make sure the designer you choose is on the same wavelength as you are. «Do they agree with your business philosophy or really understand your business? Would they buy from you?» asked Bodon. If so, they'll probably do a much better job.
It's also very important to establish a budget up front.
According to Leszczynski, business owners are frequently reluctant to talk about a budget, but he feels it's important for SMBs to establish what they're comfortable spending right from the beginning. Once that's established, he said, you go find the freelancers or an agency that's willing to help you.
«Say, "this is my checklist: I want a website... a new logo design... some new business cards... and my budget is X." A good designer or agency [might] say "you're a little unrealistic about being able to do all of this [depending on your budget], but we can help you out with the following,"» said Leszczynski. «I think if you're clear or honest with your agency or your freelancer, your marketing dollars will go a lot further.»
Leszczynski knows from first-hand experience that many designers and small agencies are often willing to work with small businesses for less than what they would charge a larger business if they are just starting out, looking for extra work, are interested in the project (i.e., it would make good portfolio fodder) or there is the prospect of more (and better paying) work at some future date.
Instead of hiring an agency or designer outright to create Praecere Public Relations' logo and web design, Zafarnia used crowdsourcing site crowdSPRING. You name your price and receive, on average, 110 submissions per project.
«By working with crowdSPRING, I was able to generate more than 200 logo and branding proposals,» said Zafarnia. «If you tried to do that offline, it would cost you hundreds of thousands of dollars. But by doing it this way, I only spent a small fraction of that. And I love the logo and the brand we came up with.»Other good sites where you can find designers willing to work with a small business budget are Elance, oDesk and Craigslist.
Small Business Marketing 102: One Chance to Make a First Impression
There's so much competition online these days, said Leszczynski, with so many lookalike, cookie cutter Web and ecommerce sites. When you have literally just a few seconds to attract and hold a prospective customer's attention, do you really want your logo and website to look like everyone else's? «You really want to stand out. And a strong online identity — logo and website — can really help separate you from the competition.»
«There can't be enough said about a first impression,» added Phelps. «If you are a small business and you look like a small business... with an ugly website that doesn't work very well, customers are going to [shop elsewhere].»
Moreover, a well-designed logo and website can really pay off, as «you can sometimes command higher prices if your branding and website make you look [like you're worth it].»
Jennifer Lonoff Schiff is a regular contributor to SmallBusinessComputing.com and writes a blog for and about small businesses.
Source: www.smallbusinesscomputing.com/